Manhattan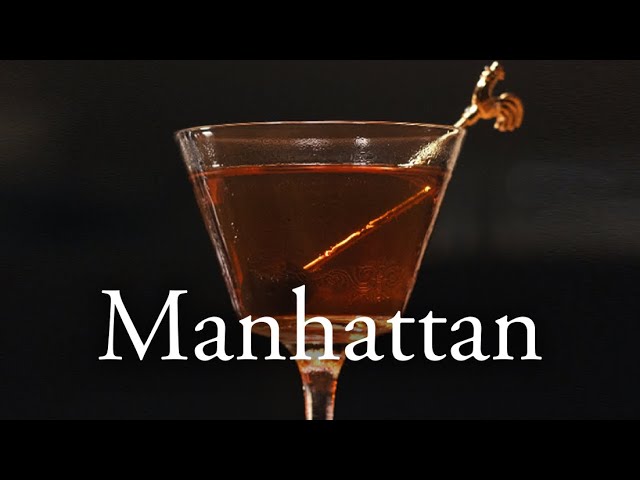 Bartenders are everywhere and cocktails are at your fingertips.
Hi, we're glad you're here! Welcome to the latest edition of Cocktail!
Manhattan, known regionally as The City, is the most densely populated and geographically smallest of the five boroughs of New York City. It is the urban core of the New York metropolitan area, and coextensive with New York County, one of the original counties of the U.S. state of New York. Manhattan serves as the city's economic and administrative center, cultural identifier, and historical birthplace. The borough consists mostly of Manhattan Island, bounded by the Hudson, East, and Harlem rivers along with several small adjacent islands, including Roosevelt and U Thant Islands. Manhattan additionally contains Marble Hill, a small neighborhood now on the U.S. mainland, separated from the rest of Manhattan by the Harlem Ship Canal and later connected using landfill to The Bronx. Manhattan Island is divided into three informally bounded components, each cutting across the borough's long axis: Lower, Midtown, and Upper Manhattan.
The text is divided into 5 subsections.
(1) Preface
(2) Allusions
(3) Recipe
(4) Tutorial
(5) Postscript
For those who are in a hurry, you can skip directly to Recipe and Tutorial to read.
Preface
Today let's talk about this area of New York!
Manhattan is the most densely populated area of New York, and is full of bars and other high-end venues, where many movies and American dramas are set.

Allusions
The Manhattan cocktail has become a household name in the area.
It is arguably one of the most iconic of all the Flavor cocktails, and some call it the "Queen of Cocktails". I wonder if we have discussed this with the "Queen of Cocktails", the Margarita.
I'm worried that the two queens will be at each other's throats.
In terms of seniority, Manhattan has to call Lady Churchill godmother.
That's right; Mrs. Churchill is the mother of former British Prime Minister Winston Churchill.
In 1874, Mrs. Churchill was a socialite in New York, and her family was well-off.
Her father ran a bar called the Manhattan Club, which was a huge hit.
One day, her friend ran for governor and won.
Without saying a word, she was in the Manhattan Club to give her friend a celebration reception.
The reception was a success, and many celebrities came.
Everyone praised a special cocktail and said it resembled the sunset of Manhattan at that moment, so they affectionately called it "The Manhattan".
This is the origin of the Manhattan cocktail.
Recipe
There are 3 kinds of base drinks in "Manhattan".
(1) Whiskey
(2) Flavors
(3) Bitters

Tutorial
To make Manhattan, you have to use a mixing pot, but the whole process is not half as difficult.
There are just not many people who always have bitters, so I'll give it two stars.
Let's take a look, the specific preparation process.
Step 1: Add 5-6 ice cubes to the mixing jug.
Step 2: Add 45 ml of whiskey.
Step 3: Add 30 ml of red flavor Mace.
Step 4: Add 1 teaspoon of Angostura bitters.
Step 5: Shake the shaker vigorously for about 10 seconds, and then pour the mixture into the cocktail glass, and the Manhattan is freshly made.
Some people will use a cherry to decorate the mouth of the glass; in fact, you can also do without, depending on your mood.

Postscript
The Manhattan is a classic not because it's so gorgeous or so good.
It's because, after this cocktail, Flavors began to be widely used in bars.
The flavor and texture of cocktails were then greatly expanded, and it gradually became a landmark event. It was also on this premise that a large number of heirlooms such as the Martini and the Negron were created.
What is unfolding in front of cocktail lovers is a whole new era.
Please leave comments if you have questions or suggestions.
---